TALK Targets is a patient support campaign, from Novo Nordisk, for people with type 2 diabetes who have high blood glucose. It encourages proactive and open dialogue between people with diabetes and their healthcare team to improve high blood glucose and the overall management of type 2 diabetes.
There are 3.9 million people with diabetes in the UK and as many as 90% are living with type 2 diabetes. So if you have diabetes you are not alone. Having type 2 diabetes doesn't need to stop you from living a full and active life, provided you manage your condition well by ensuring that your blood glucose levels are under control.
If you have type 2 diabetes, you may be finding it hard to meet your blood glucose targets. But did you know, by taking control, you can reduce your risk of complications like heart disease, stroke, kidney disease, eye damage and nerve damage? Because diabetes is a progressive disease, it is important to remember that you may need to consider a change to your treatment to ensure that your blood sugar levels remain in control.
Have you got type 2 diabetes? Have you been experiencing any of the following symptoms:
Being very tired and thirsty
Getting blurry vision
Going to the toilet often
Feeling sick to your stomach
Fainting
Being sick
If so, you might have high blood glucose (hyperglycaemia) and so it is time to TALK Targets with your healthcare team.

By supporting you and your healthcare team, TALK Targets will help you to:
Take control of your type 2 diabetes and high blood glucose
Talk to your healthcare team about managing your type 2 diabetes
Develop and agree a plan to help you meet your blood glucose targets
TALK Targets includes an acronym to help you remember the key steps to regaining control of your diabetes: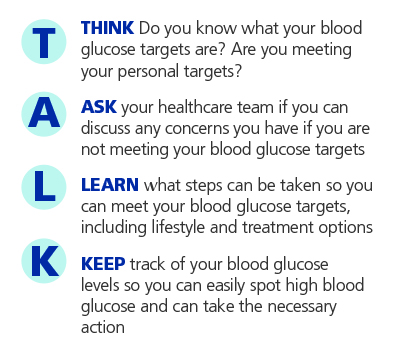 The campaign includes the following resources:
Patient advice booklet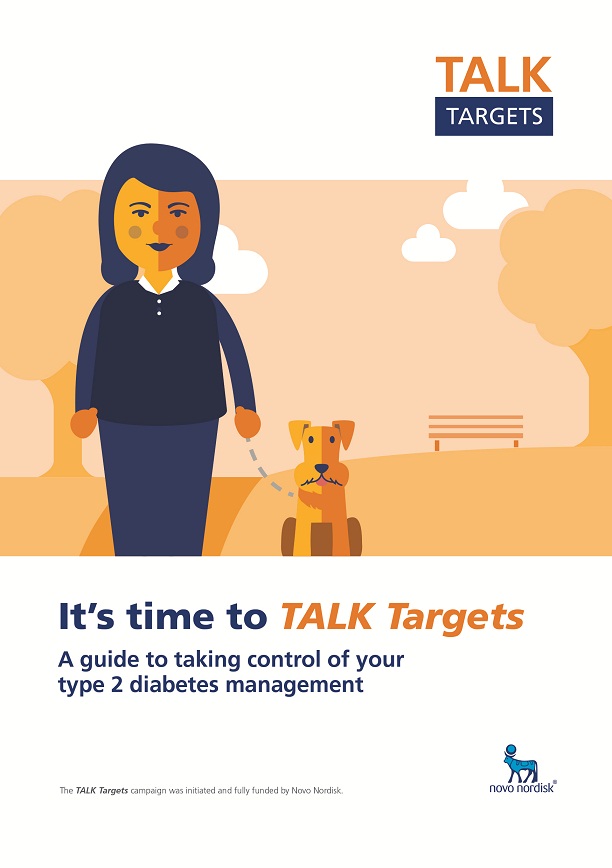 Download this interactive booklet to remind you of the type 2 diabetes essentials, advise you how to control your blood glucose levels and record your progress in reaching your blood glucose targets.
You can complete, save or print your progress in the TALK Records section of the booklet.
If you would like to view the TALK Targets booklet on your phone or tablet simply download the free Adobe app from your app store and open the TALK Targets booklet in Adobe. There you can keep an up to date record of your diabetes care and changes you would like to make.
'Spot the signs' animation
This short awareness video is useful if you would like some help in the basics - such as spotting the signs of high blood glucose.
Click here to download the TALK Targets animation video.
This animation is also available to download in Welsh, Hindi, Urdu and Polish.
This page is intended for members of the UK public
UK/WB/1215/0027 February 2016