With 3.9 million people in the UK currently living with diabetes, and this number set to increase dramatically, supporting patients to achieve their target blood sugar levels has never been more important.
Studies suggest that focusing on healthcare professional-patient communication can help address factors that influence type 2 diabetes treatment adherence and control.
TALK Targets is a patient support campaign for people with type 2 diabetes who have high blood glucose. It encourages proactive and open dialogue between patients and healthcare professionals to improve high blood glucose and the overall management of type 2 diabetes.
By supporting you and your patients, TALK Targets will help you to:
Openly talk to your patients about managing their type 2 diabetes
Encourage them to want to make a change to help them take control of their type 2 diabetes and high blood glucose
Develop and agree a plan to help them meet their blood glucose targets
The campaign includes the following resources:
Guide for healthcare professionals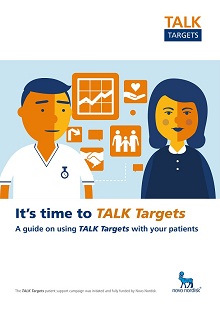 Download full guidance for healthcare professionals, which is intended to help you engage in collaborative dialogue with your patients. The aim is to help your patients feel supported while taking steps towards improving their blood glucose control and getting to target.
Click here to download a poster for your surgery for easy reference.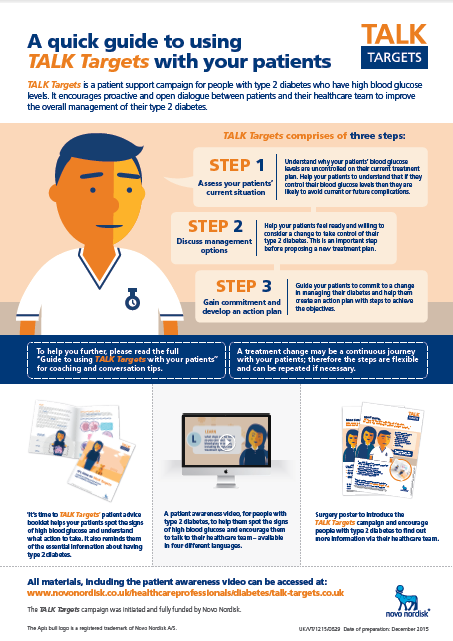 Patient advice booklet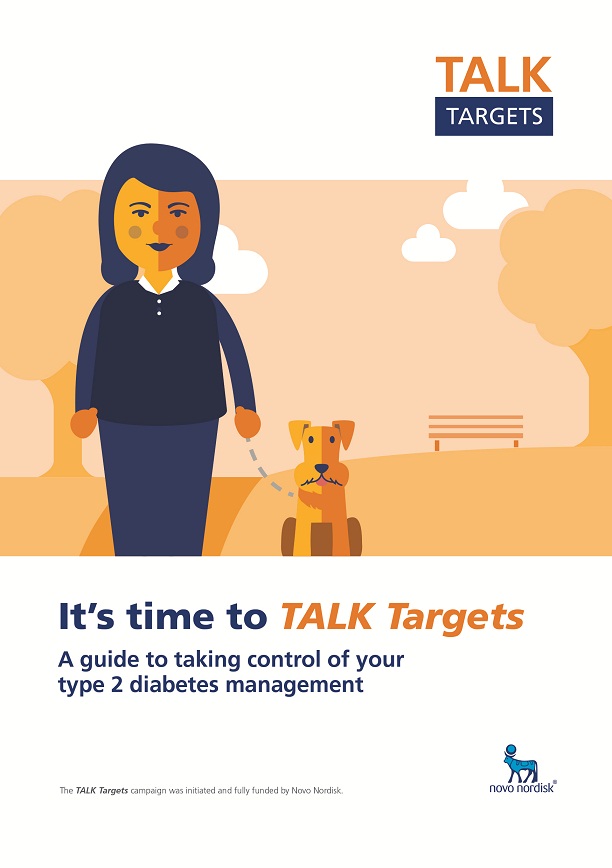 Download a print version of the TALK Targets advice booklet, which is for you to provide to your patients with type 2 diabetes and can be used to track your patients' individual targets. These booklets aim to encourage your patients to reflect on the key points discussed at each consultation and help them commit to a change in managing their type 2 diabetes.
Click here to download the interactive version of the booklet
Here patients can also complete then save or print their progress in the TALK Records section of the interactive version of this booklet.
If you would like to view the TALK Targets booklet on your phone or tablet simply download the free Adobe app from your app store and open the TALK Targets booklet in Adobe.
'Spot the signs' animation
Click here to download the TALK Targets animation video.
This short awareness video is intended for you to show to your patients with type 2 diabetes. It will help them spot the signs of high blood glucose and encourage them to talk to you and their wider healthcare team about better managing their diabetes.
This animation is also available to download in Welsh, Hindi, Urdu and Polish.
This page is intended for healthcare professionals in the UK
UK/WB/1215/0028(1) April 2016