5-11 October 2015
Hypo Awareness Week is an annual opportunity for the diabetes community to promote hypoglycaemia in hospitals across the UK. The aim is to help healthcare professionals recognise the signs, treat the symptoms and refer patients to the appropriate care teams. Last year the campaign was hugely successful involving 142 hospital trusts across the country. This year with your support, we can make this bigger and better.


Theme for 2015 - The Sleeping Danger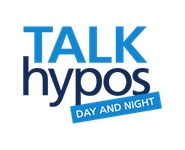 This year our focus is on nocturnal hypos, which occur when a person is sleeping. They are a real concern for people with diabetes as they are often unpredicatable and difficult to detect. According to one study, over half of severe hypos occur at night and more research into the subject suggested that 65.8% of people experience at least one night-time hypo a month. The overall challenge is that over a fifth (22%) of people with diabetes in hospital will have experienced a largely avoidable hypoglycaemic episode as an inpatient within the past seven days, according to the National Diabetes Inpatient Audit. One in 10 will have experienced a severe hypoglycaemic episode.
As well as this human cost, the financial burden on the NHS is high, with the cost of treating moderate and severe hypoglycaemic events totalling £72.2 million each year.
Below are a selection of useful TALK Hypos resources:


Excellence Award
This year we have launched the Excellence Award to showcase, promote and reward innovation during Hypo Awareness Week.
Entry is quick and simple with just a 250-word summary needed on what your hospital has achieved during this year's campaign.
The judging will be conducted by the Hypo Awareness Week Excellence Award Champion Dr Partha Kar, Esther Walden, the chair of the Diabetes Inpatient Specialist Nurse (DISN) UK Group, and Simon O'Neill, Diabetes UK's Director of Health Intelligence and Professional Liaison.
The decisions will be based on the following criteria:
A demonstration of excellence in raising awareness of hypos
The management of a significant Hypo Awareness Week campaign locally
A commitment to reducing the number of hypos and severity of incidences for patients

Dr Kar, who is part of the multiple national awards winning diabetes team at Portsmouth Hospitals NHS Trust, which launched Hypo Awareness Week locally in 2012, said: "Hypo Awareness Week is about raising awareness of hypoglycaemia and this award is about rewarding those who excel in promoting this message during the campaign.
"People with diabetes go into hospital to be looked after not to have an avoidable hypo. We want to celebrate inpatient diabetes teams who go above and beyond during Hypo Awareness Week with this award and also encourage the sharing of good practice."
Hypo Awareness Week 2015 is a collaborative initiative funded by Novo Nordisk and supported by Diabetes UK.


This page is intended for UK healthcare professionals only
UK/WB/0915/0021(1) September 2015