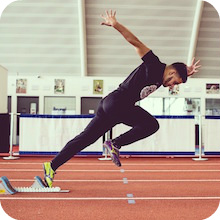 Since the age of eleven, I've lived with type 1 diabetes. People told me I would never be able to achieve my lifelong ambition of representing the British athletic team (Team GB). Twelve years later and I sit here writing this blog with two European medals and a British under-23 sprinting record to my name!
My name is Dannish Walker-Khan, and I'm a Great Britain international sprinter living with type 1 diabetes.
As an athlete, I have a very active and strict training schedule. This means I have to closely manage my mealtimes to make sure my blood glucose is in a good place before, during and after I exercise. I train every morning at 9 am and, unlike my team-mates, I have to eat 1.5 hours before I start my exercise. This means that every morning at 7.30am I eat my daily meal of oats, a banana and a protein shake.
Sure, it would be nice to wake up at 8.45am and rock up to training with a half-eaten banana in my mouth, but I guess part of living with diabetes is accepting the fact that I have to plan my mealtimes a bit more carefully.
I've also learnt to carbohydrate (carb) count, which helps me figure out how much insulin I need to take around mealtimes.
I've created a treatment regimen that suits me. This means I can train normally from around 9am to 11am with normal blood glucose readings.
I then eat a little glucose gel or a protein bar (containing carbs), which keeps me going until my training finishes at around 1pm.
After I finish training I have my second big meal of the day, which is usually fish, rice and vegetables. Based on what I'm eating and the intensity of training I've done, I make sure to adjust my insulin dose, which reduces my risk of having a hypo later in the day.
Learning to manage my diabetes and my meals while pursuing my dream of becoming a world-class sprinter has taken me over a decade to get right, but it has definitely been worth the wait.
This page is intended for UK healthcare professionals only

UK/WB/1016/0060 November 2016