Novo Nordisk Research Centre Oxford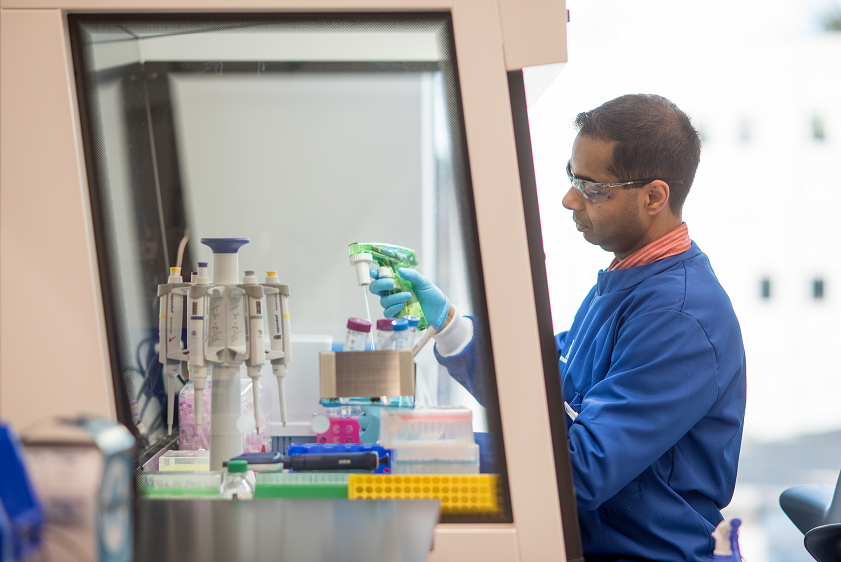 Novo Nordisk Research Centre Oxford (NNRCO) is an innovative target discovery and translational research institute with a focus on identifying new therapeutic opportunities for patients with type 2 diabetes and cardiometabolic diseases.
NNRCO is located in the Innovation Building on the Old Road Campus, Oxford. Building on a longstanding relationship, Novo Nordisk and University of Oxford have formed the landmark strategic alliance anchored at NNRCO, which has been in operation since mid-2017.
With its close proximity to academic centers of excellence within Oxford, London and Cambridge, NNRCO embraces collaboration opportunities in this unique and innovative ecosystem. These collaborations aim to advance discovery and translational research, which ultimately will yield innovative therapies that will make a difference to the lives of patients.
NNRCO employs advanced bioinformatics, state-of-the-art discovery screening technologies and human centric systems to dissect pathophysiology and identify novel drug targets. It takes full advantage of academic-industrial collaborations, human genetics and big data to conduct world-class discovery and translational research.
 
NNRCO News & Events
On September 12th, 2018, NNRCO officially inaugurated its new research facilities within the Innovation Building. 
 
NNRCO Leadership
Bill Haynes leads NNRCO. Bill is a physician-scientist with more than 20 years' experience in academic-industry translational research across cardio-metabolic diseases. Bill trained in medicine and research in the UK and was a professor of endocrinology and cardiovascular diseases at the University of Iowa. Following this, Bill worked in discovery research and translational medicine at Novartis and AstraZeneca and has led multiple high-profile collaborations with academic institutions. Bill joined NNRCO in December 2018.

NNRCO departments
Discovery Bioinformatics – employs advanced AI, machine learning, and systems biology to mine and interpret increasingly voluminous biomedical data to identify novel drug targets (and gain insights into biology) for cardiometabolic diseases, especially type 2 diabetes, CVD, NASH and obesity by integrating human data from multiple sources such as biobanks, clinical trials, and omics experiments.

Discovery Technologies and Genomics – establishes and applies state-of-the-art technologies to discover new therapeutic targets for cardiometabolic diseases. Screening, discovery and translational research are performed by applying technologies such as high throughput imaging, genomics, proteomics, CRISPR editing, single-cell sequencing, etc., to human samples and human centric in vitro models. These approaches provide opportunities to elucidate the function of genes, proteins and peptides in human model context and to identify targets and key biology with high translational potential for therapeutics.

Discovery Biology and Pharmacology – focuses on modelling the pathophysiology of type 2 diabetes and cardiometabolic dysfunction using human centric systems. Many of these approaches involve human stem cell-derived cells and tissues, with an emphasis on capturing physiologically-representative function, alongside multi-cell and multi-organ cross-talk. These in vitro interests extend into 'proof-of-concept' in vivo studies, where the translational impact of such discoveries is further investigated and evaluated in model organisms recapitulating the biology seen in human disease. Bringing together these state-of-the-art in vitro and in vivo systems allows identification and investigation of targets promoting tissue health and repair, and unlocks the potential of regenerative medicine-based therapies.

Insulin Resistance – NNRCO is currently recruiting for the head of this department, follow the link below to apply and check back in the coming months for updates on the focus of this new department!
Genetics – NNRCO is currently recruiting for the head of this department, follow the link below to apply and check back in the coming months for updates on the focus of this new department!
Research Operations – NNRCO is supported by a lean local Operations staff covering Lab & Facilities Management, Research IT Management, Procurement Support, Human Resources, Finance, Communications and other business functions

Job opportunities at NNCRO
We are recruiting for various exciting roles at NNRCO, view our current vacancies.
 
Learn more about R&D across Novo Nordisk

This page is intended for members of the UK public 
UK/WB/0917/0041    Date of Preparation September 2017